Sunday Scripture
Criticism is hard to hear. Even if it is well-intentioned and comes from someone who is qualified to critique my work, it has taken a long time for me to learn that criticism is more helpful to me than praise, because it will, ultimately, result in improvement and growth–if I receive the criticism as a gift.
Simon the Pharisee was in a bind, a socially awkward situation, and he wasn't handling it well at all. He had invited Jesus into his home, and who should show up right at dinner time but "a woman of the city," polite parlance for a prostitute. It's doubtful that Simon gave a second thought to the woman's tears. She was in his house bringing her reputation and spiritual "contamination" with her, and if there had been power washers in that day, Simon would have been renting one for his house that very moment.
As she opened her flask of fragrant ointment and anointed Jesus's feet with her tears, drying them with her hair, the awkwardness in the room would have been palpable. Picture Simon, pacing his anxiety across the room, and then in The Office sitcom style, looking at the camera and saying, ""If this man were a prophet, he would have known who and what sort of woman this is who is touching him, for she is a sinner." 
Of course, Jesus overheard the aside, and, even though it's over two thousand years later, his reply stops me in my tracks this very day:
"Simon, I have something to say to you."

Luke 7:40
This is true of all of us. Jesus always has something to say to you about your life. Simon must have been a lot more confident than I am, because his reply was simply, "Say it." Is it possible he was so aware of the sins of his uninvited guest that he didn't pick up on Jesus's displeasure with him?
As he often did, Jesus cut to the chase with an illustrative story:
"A certain moneylender had two debtors. One owed five hundred days' wages, and the other fifty. When they could not pay, he cancelled the debt of both. Now which of them will love him more?" (Luke 7:41, 42)
Simon's reply reveals a certain reluctance. "Well… I suppose the one who had the larger debt." Maybe Simon sees what's coming? We aren't privy to the outcome of Simon's interaction with Jesus. It's possible he went on to a life of greater compassion because Jesus had "something to say to him," and he heard it well. Sadly, it is also likely that he failed to allow Jesus's words to change the direction of his life.
Everyday, I want to realize how much I have been forgiven. It's much too easy to take it all for granted. Like Paul, when we realize our strong qualifications for the "chief of sinners" award, we are moved to love God more because, like the woman in Luke 7, we live in awareness of our need. When, through his Word, I sense Jesus saying, "Michele, I have something to say to you," I want to listen well and be changed by his words.
Grace and Peace to You,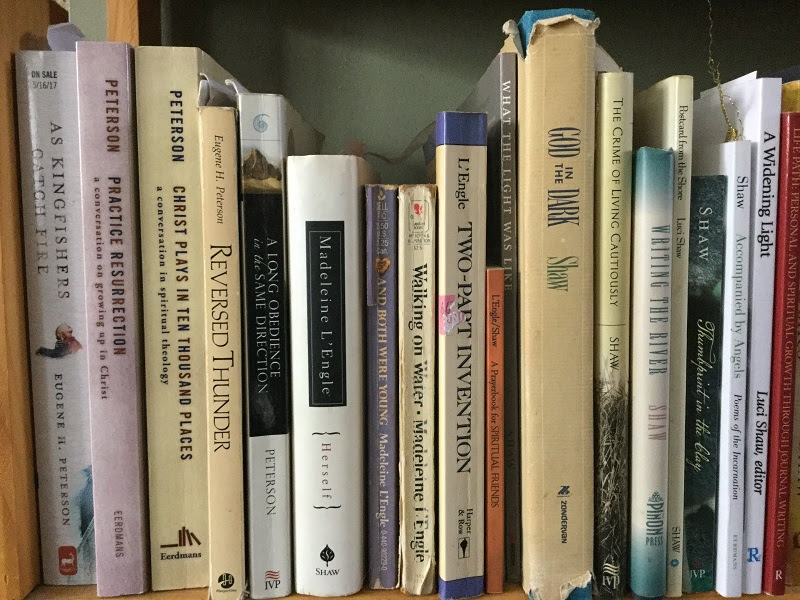 In my July newsletter, I've offered a free resource to readers and writers: How to Write Helpful and Engaging Book Reviews. If you haven't signed up to receive regular encouragement in your email inbox, it's not too late to sign up and get the free PDF. You can either hop on the handy (and only slightly annoying) pop up form here on the blog–or simply click here.
If you know someone who would appreciate encouragement in writing their book reviews, please share subscription details with them!
To subscribe, either hop on the handy (and only slightly annoying) pop up form and enter your name and email address– or you can click here!
Subscribe to Living Our Days blog to get regular content delivered to your inbox. Just enter your e-mail address in the field at the top of this page.
Photo by Aaron Burden on Unsplash